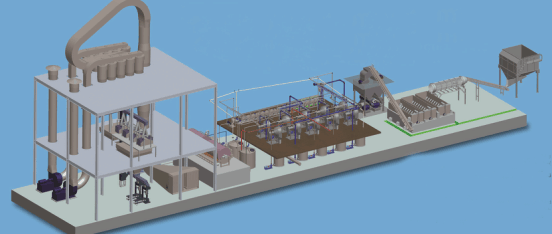 sample analyzing
sample analyzing
cleaning and washing
rasping and milling
cyclone de-sanding
centrifugal extracting
refining
solid - liquid separation
drying and screen
weighing and packaging
PRODUCT ADVANTAGES:
  Combining the mature european technologies and domestic production in high standard, makes our system of the best performance-price ratio.
Fully closed and modular structure makes compact layout, resulting in a sharp reduction of installation time.
Steady running control system range from fully automatic to manual, catering to customers' needs for various systems.
By utilizing 3D design software, detailed drawings can be provided for customers' facilitated installations.
FEEDING MATERIAL:
sweet potato, potato, cassava
COMPONENTS OF MATERIAL:
| | | | | |
| --- | --- | --- | --- | --- |
| SWEET POTATO | | POTATO | | CASSAVA(TAPIOCA) |
| STRACH:22% | | STARCH:17% | | STARCH:28% |
| FIBER:3% | | FIBER:1.5% | | FIBER:3% |
| PROTEIN:1.5% | | PROTEIN:2% | | PROTEIN:1.8% |
| ASH:2.0% | | ASH:2.0% | | ASH:0.8% |
| MOISTURE:71.5% | | MOISTURE:77% | | MOISTURE:68% |
SYSTEM FLOW CHART: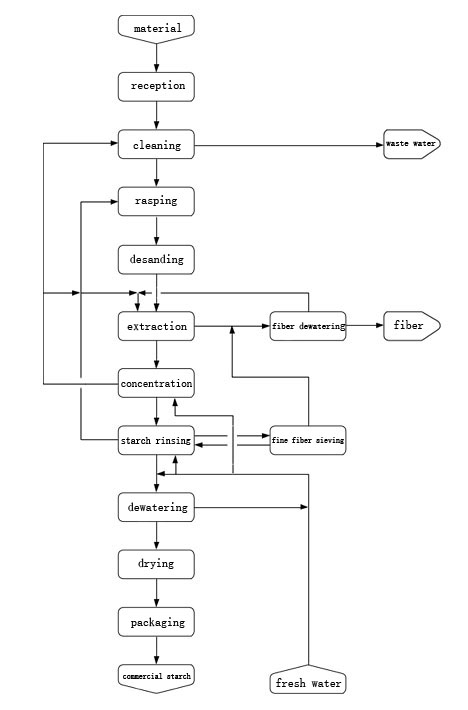 CASSAVA STARCH, TAPIOCA STARCH, SWEET POTATO STARCH PRODUCTION CAPACITY AND PRODUCTION DATA COMPARISON LIST :

POTATO STARCH PRODUCTION CAPACITY AND PRODUCTION DATA COMPARISON LIST:

project case