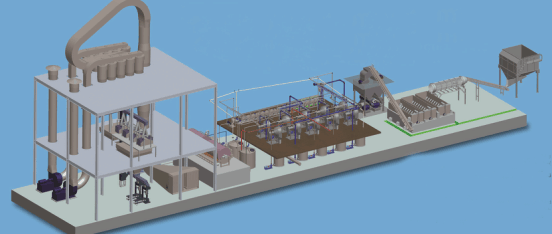 sample analyzing
sample analyzing
cleaning and washing
rasping and milling
cyclone de-sanding
centrifugal extracting
refining
solid - liquid separation
drying and screen
weighing and packaging
Fully auto—packaging system is widely seen in industrial packing application for bulk powder material as it meets customers' diversified requirements in both technological sense and machinery sense. We aim to meet customers' increasing needs to the utmost extent with high efficiency and high flexibility.
MAIN FEATURES:
The system is mainly comprised of bag-furnishing fully auto-packaging machine and double-weighing platform. Bag taking, bag sitting, weighing, filling, unloading, sewing and conveying are completed automatically to substitute traditional manual process. By realizing the fully automatic packing system, production efficiency can be heightened and cost can be reduced dramatically.
The control system adopts german siemens plc with color touch screen, ensuring a clear human-computer interface and easy operation.
Pneumatic & electronic components are mounted in closed cabinets with positive pressure to keep a dust-free condition.
High-precision transmitters and inteligent instruments are adopted for weighing.
Main motors are of frequency converted type, setting for speed can be done by adjusting frequency on the color pod according to production.
Auto-detecting: in case of any faults such as bag not open or partially open, no filling, no sealing, bags can be re-used for next time. This will save cost for customers.
APPLICATION:
The auto-packaging machine can be applied for powder material such as feed stuff, grains, chemical, food and etc.
project case