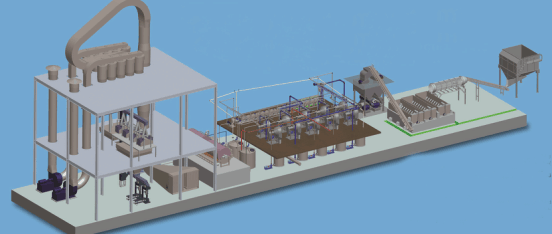 sample analyzing
sample analyzing
cleaning and washing
rasping and milling
cyclone de-sanding
centrifugal extracting
refining
solid - liquid separation
drying and screen
weighing and packaging
SYSTEMATIC INTRODUCTION OF PROCESS TECHNOLOGY:
Corn starch process is a process of physical separation. The purpose to produce corn starch is to separate the non-starch substances such as protein, fiber, fat and inorganic salts and other substances existed in corn. It's based on starch properties. Starch is undissolved in cool water. Density of starch is bigger than that of water.
In the process selection, the corn starch processing mainly utilizes wet processing which main separation and twele hrydrocyclone counter current washing. The production process is fully enclosed in themal circulation. The process water is basically recycled. The process technology is mature, reliable and stable in quality.
CORN COMPOSITION (AVERAGE)
STARCH:70.00%
  FIBER:2.40%
  PROTEIN:11.00%
  ASH:1.60%
  MOISTURE:14.00%
  OTHERS:1.00%
PROCESS FLOW CHART: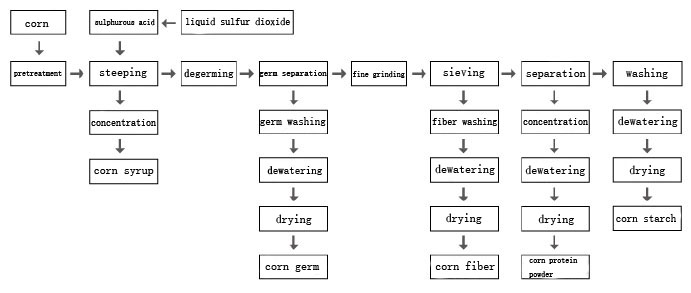 CORN STARCH PRODUCTION CAPACITY AND PRODUCTION DATA COMPARISON LIST:


project case